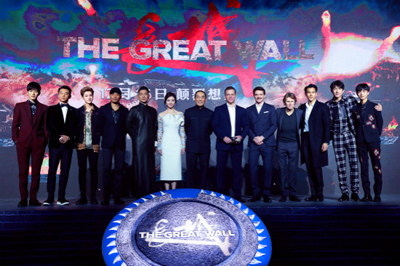 Wanda Group made several big acquisitions in the film industry in 2016, laying out its goal of challenging Hollywood in film production and distribution.
Wanda acquired Legendary Entertainment, Carmike Cinemas, Odeon & UCI and MTime. With these flagships under Wanda's umbrella, Wanda's businesses are now covering various stages in the industry including production, distribution and screening. As of the date, Wanda has 1,352 cinemas and 14,347 screens around the world, a 12% of world market share.
Hollywood still dominates the world film market. Wanda has been aggressively expanding in the film industry. In just last year alone, it added 677 cinemas, 6,788 screens, 38 million memberships in China and nearly 50 million film memberships worldwide. With a series of acquisitions and rapid expansions, Wanda not only covered top production companies in Hollywood, but also completed its layout in the world film industry. It is now ranked number one in movie exhibitions in the biggest three markets, North American, European and Chinese.
Wang Jianlin has laid out his thoughts on how China should go global. He emphasized that only when Chinese film companies establish strong overseas distribution pipeline, there is a chance that Chinese films will be able to go global. Recent years have seen rapid growth in the Chinese film industry, but its overseas box office stayed behind because there is a mismatch between the market and the pipeline.
With Wanda's acquisition of AMC in 2012, HOYTS in 2015, and ODEON & UCI in 2016, Chinese film gradually established an overseas pipeline. At the end of 2016, under Wanda's flagship, Legendary Entertainment finished "Great Wall", an anniversary blockbuster directed by Zhang Yimou and produced by Hollywood lines of business. This is the first Chinese film that has undergone a true global distribution. The real reason behind its wide accolades and successful box office performance is Wanda Film's continuous expansion in its global layout and influence.
In 2016, Wanda Cinema Line achieved an operating income of 11.1 billion yuan, a YoY increase of 39%, of which non-box office revenue is of particular interest. Non-box office receipts accounted for 3.8 billion yuan of the revenue, a YoY increase of 101%, which means that in addition to the box office receipts, derivative products, food and drinks, and advertising have become major sources of income for the cinemas, and these are getting increasingly more important, and are now an indispensable segment in the Wanda movie industry chain.